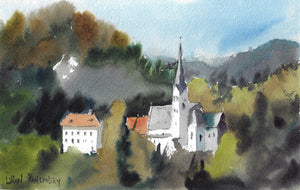 One of my biggest inspirations has always been rural European views, especially those with churches in them.
This is a lovely scene of rural Poland.
I wanted to take a direct approach, so what you're looking at is essentially one layer with no glazing, aside from a few minor details added.
Surprisingly enough, I don't have many paintings on the gallery that were done this way, using a single layer... Making this one quite a rare gem 😉 
I hope you'll consider purchasing it! 🙏🏼😊