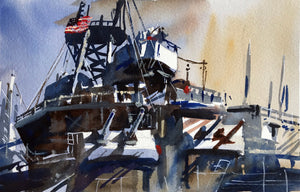 My goal with this painting was to convey the warship in the most abstract way I can, while maintaining the resemblance and impression.
I find the abstract patterns caused by the harsh light and shadow conditions to be fascinating. This was a spectacular exercise in that kind of skill.
One more thing I wanted to play around with was the temperature of paint, as visible especially in the sky.