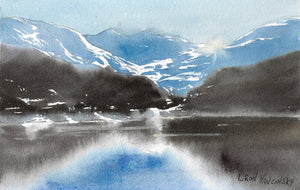 A beautiful mountainous landscape in the Swiss Alps.
There are two details inspiring me to paint this view. One was those beautiful patterns of light and shadow in the snow. The contrast of white and blue is fantastic!

The second element would be the reflections and their motion-related quality. I was curious to see if I could use various watercolor means to imitate said sense of motion.
I hope you consider getting this one!